Since America's inception, the right to vote has inherently been a focal point of our society – because time and time again it has disenfranchised parts of our society into not having a representative voice in government, and the inability to push for actual change. Even though the original constitution didn't formally establish voting rights, or ineligibility, we are still at it's core a country founded by White, Christian Males; thankfully, we have opened up our voting system to finally include minorities, the youth, women and our African American population.
One thing I've discovered in the here and now – when there isn't a law in place to actively progress society, facets of society will use that space to push back even further. That said, with new legislation, came a trove of new pushbacks coupled with a new vitriol; with new change, came those who inherently rejected that change and have done almost anything they can to make it null and void. So, pull up a seat, grab some popcorn – and let's travel back in time for a little history lesson before we get into what's currently happening in Georgia.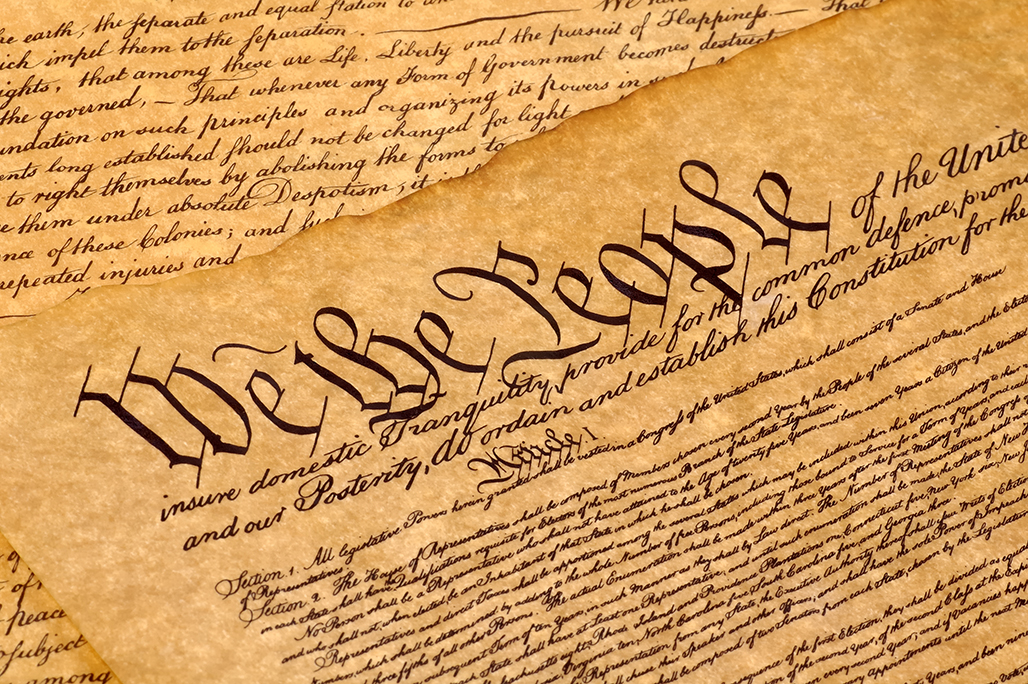 ---
After the Civil War, the Fourteenth Amendment formally abolished slavery. Laying the groundwork for the Civil Rights activism that we're still in the mix of in 2021, the Fifteenth Amendment is a pivotal point in American society and culture – granting the right to vote to men of any color and was subsequently passed in 1870, As a country founded on the backbones of our African American brothers and sisters, it was tantamount to the evolution of the Reconstruction era of American history once slavery had been eradicated.
Next, finally passed on May 21st, 1919, and then certified on August 26th, 2020 – the Nineteenth Amendment took almost a decade of protesting to pass; and specifically prevents and prohibits the federal and state government from denying the right to vote based on gender. At the time, it brought in approximately 26 million American women to vote in the 1920 presidential election. Unfortunately, this still left the door open to prevent giving minorities the right to vote because by in large – it was an amendment duly applied to White women, which spurred the National Women's Party to begin their work on the Equal Rights Amendment. However, every time it seemed like we were taking two steps forward as a country, we still had to negotiate with the one step backwards.
In 1962, the Twenty-fourth Amendment was passed – eradicating the poll tax. Yes, there was a tax to vote – and primarily a way to keep the poor, minorities and women from being able to participate in government. Primarily used by Southern States of the former Confederacy, the poll tax was a reaction to the Democratic Party gaining strength and seats in state legislatures. Unfortunately, there were several states who refused to do away with the tax – including Alabama, Arkansas, Texas, Mississippi and Virginia. It wasn't until 1966 for the Supreme Court case of Harper versus the Virginia Board of Elections that the poll tax was made formally unconstitutional.
Through it all, the South did an unfortunately impeccable job of upholding Jim Crow laws. Brought to the forefront by the White Southern majority, the Jim Crow era of laws essentially doubled down on racial segregation and racist policies throughout the South on state and local levels. These laws were put in place solely to prevent and dissolve the economic, societal and political gains made by African Americans in the post-slavery era. Slowly, over time, these laws were dismantled. Starting with the 1954 Brown versus Board of Education trial where segregation in schools was formally deemed illegal, Jim Crow laws were formally done away with in the 60's with the one-two punch of the Civil Rights Act of 1964 and the Voting Rights act of 1965.
The Civil Rights Act of 1964 is in itself an incredibly crucial piece of legislation. Not only did it formally outlaw discrimination based on sex, race, color, national origin – and now, sexual identity and gender identity; the Civil Rights Act established laws surrounding segregation – forbidding racial segregation in schools or public accommodations, employment discrimination, and most important to our current discussion unequal voter registration requirements. Piggybacking on the Civil Rights Act, as well as the 14th and 15th Amendments, the Voting Rights Act of 1965 was created to ensure that racial minorities throughout our country, but especially in the south, would be guaranteed the rights to vote – making literacy tests and the like illegal, and preventing discrimination against language and racial minorities.
Last, but most certainly not least – we fast forward to 1971 – and the Korean conflict, and various Vietnam wars where we're drafting soldiers into battle yet denying them the right to have a say in government. This brings us to the Twenty-sixty Amendment which prevents states from denying the right to vote for those over 18.
---
All combined, these small changes in policy in addition to the monumental amendments of grandiose importance have made it possible for millions of disenfranchised Americans to participate in their own government. However, In the absence of federal legislation concerning elections, it's up to the individual states to establish their own qualifications; and hence the rub.
The unfortunate fact of the matter is understanding that blue states aren't vastly more progressive than red states but that red states do more to disenfranchise their communities more than anywhere else. And thanks to current state level legislation, it feels more and more like we're heading back into eras of voter suppression within predominantly White communities than ever before.
In 2018, NPR penned an article citing that almost half the United States had implemented restrictions on voting – noting that some states require a photo ID, which could be seen as a nuanced version of a poll tax, in addition to both Ohio and Georgia championing what's considered "use it or lose it" legislation – essentially purging voters from participating in elections simply if they haven't recently been part of them.
"You're seeing a national effort by the Republican Party to try to restrict voting rights, and it's playing out in states all across the country."

Ari Berman, Author of "Give Us the Ballot"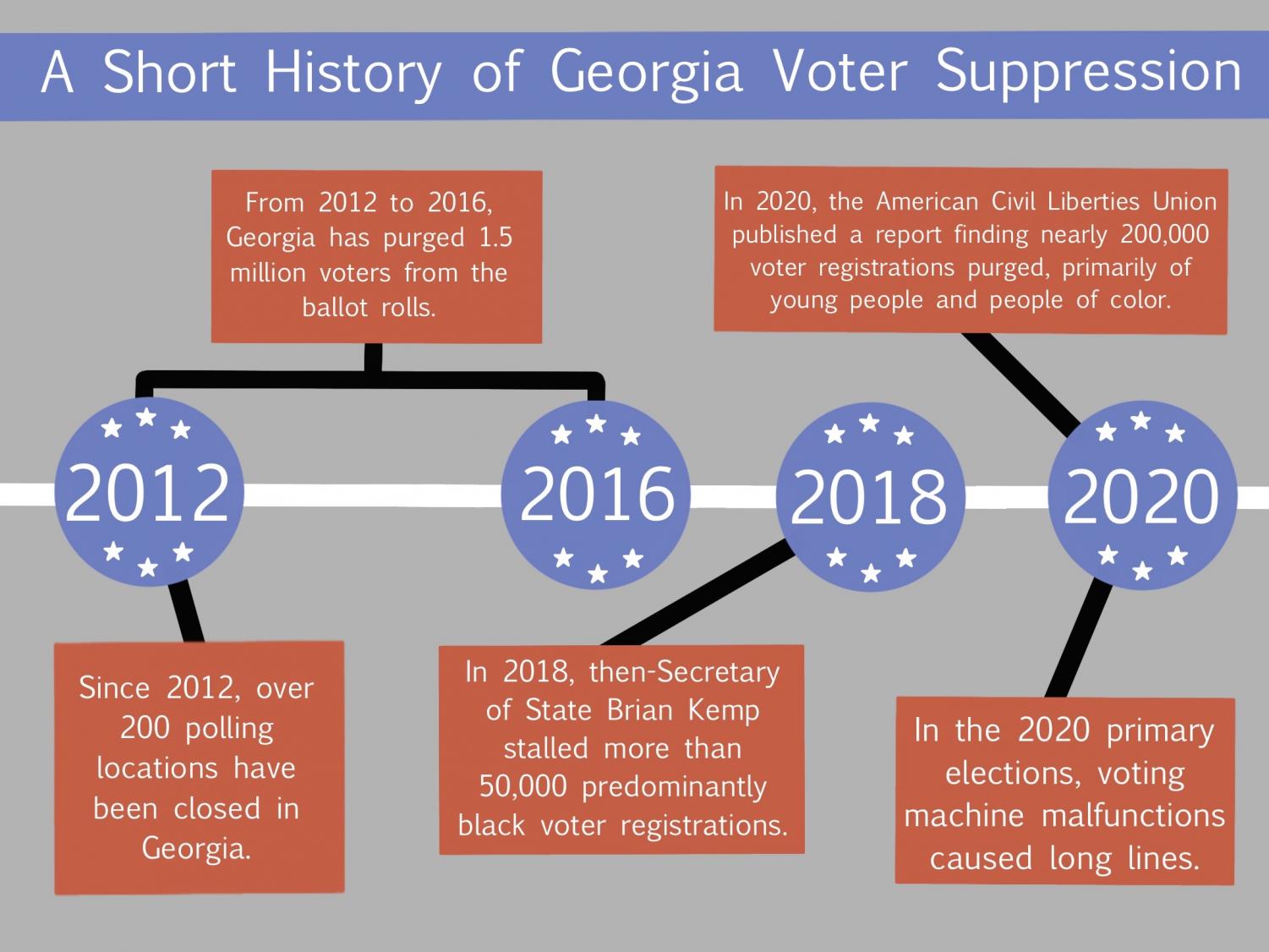 Paired with the 2013 Supreme Court decision Shelby County versus Holder which permitted states with long history of discrimination to bypass the federal government in discussion for changes in voting laws, Ari Berman of Mother Jones believes these are part of a bigger strategy by the GOP to restrict voting access. When the 2018 mid-terms were underway, these laws were brought to the forefront of many discussions – especially with Georgia in the mix.
Though there are dozens of states, with hundreds of pieces of legislation on the table – Georgia is the first battleground state to pass such restrictive voting laws in the aftermath of the 2020 election.
There's a reason that Stacey Abrams is coveted so much by the BIPOC communities of Georgia. There's a reason that everyone was so keen to get into the kind of 'good trouble' that John Lewis was referring to. There's a reason our country was on pins and needles with the run-off races in Georgia, and why so many of us were championing for, donating to, and elevating Raphael Warnock and John Ossoff for their senate seats.
With their latest litany of legislation, Georgia's GOP is actively pursuing a campaign against minority voters. As of the other week, Georgia's Governor Brian Kemp signed #SB202 – an almost 100 page bill into effect after being passed in the state house and senate. Some key points to the legislation that was passed. It standardizes early voting on Sundays. This is incredibly important in Georgia primarily due to the vast amount of campaigning, busing and voter turnout that African American Churches bring to the table – making it unnecessarily difficult for the African American Democratic population to participate.
Additionally, this same bill would limit the number of drop box locations in the state, cuts back on the time to request an absentee ballot, pave the way for unlimited voter challenges, require photo ID for mail-in ballots and last but most certainly not least prohibit the community from handing out water, drinks of food to anyone waiting in line to vote. And to boot, the Georgia Democratic Representative Park Cannon – a young, vivacious, openly queer and Black Representative elected just this past year – was arrested…simply for knocking on Kemp's door because she was concerned about the legislation. Enforcement officials (…currently) are adamant that they arrested Cannon because they feared another January 6th Riot, and arrested Cannon on the charge of "obstructing law enforcement and disruption of the General Assembly".
At the end of the day, it's become unfortunately clear who and what the American government, as well as the American police, are propping up – and what they are actively working to dismantle. They are trying to dissolve our greatest strength, our differences and our diversity. As a society, America is a stained glass window built off of thousands of unique pieces, perspectives, and peoples. We each have our individual truths, but the fact of the matter is – we must pull back to see the biggest picture, we must view us as one whole America; not within the fractional window of White, male privileges and pride.
One thing I'd like to leave you with – we are not done enfranchising those who do not have a right to currently vote. Many states have a residency requirement, making it difficult for the homeless population. In almost every state, prisoners – current, or former, do not have the right to vote. Our country will not be free, until we are all free to participate within it; we will not be inclusive, until we include everyone.
"Get in good trouble, necessary trouble, and help redeem the soul of America."

John Lewis
How to Help in Georgia
Donate to the Georgia Democratic Party
Donate to ActBlue