– Cross-published in The DJ List –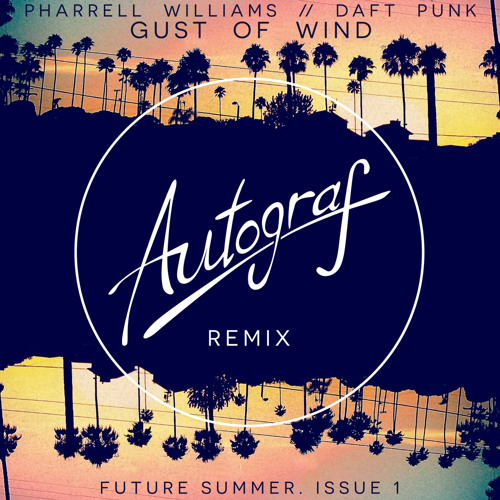 Currently available for free download through AUTOGRAF's Facebook page
In the tangible world, it's only been two months since's Autograf's last remix; but to tried and true fans of the Chicago triumvirate those sixty some days can feel like a lifetime. Admittedly, he sultry Future Disco forerunners have been keeping themselves busy by taking their signature sound to clubs and parties on the East Coast and releasing exclusive mixes through Dancing Astronaut, Gotta Dance Dirty and most notably, THUMP and Too Future as of late. This morning, they returned to their downtempo, day party vibes with their take on the synth heavy, electro pop summertime anthem 'Gust of Wind' from Pharrell and the legendary Nu Disco duo Daft Punk.
Eliciting feelings of Pretty Lights, Griz and Late Night Radio, Autograf's mix takes an equally eerie and seductive turn – reminiscent of their takes on classics like Marvin Gaye's 'Heard it Through The Grapevine' and Stevie Wonder's 'Superstition'. The end result is a groove perfect for pool parties and cruising to at high volumes in your ride.
"With the hot sunny days upon us, we decided to start the Future Summer remix series. For every month this summer, we'll be taking a song we're really feeling at the moment and giving it our Future House, summer-inspired remix treatment…And we'll be giving them all away for free as a thank you to our fans. As a new group, it can be hard to get noticed, so we really appreciate people taking the time to discover and share our music. For the first one in the series, we couldn't have thought of a better song to remix than Pharrell's collaboration with one of our all-time heroes, Daft Punk."
If the caliber of their remixes is any indication of future success, make sure to keep your eyes and ears out for Autograf in 2014. Be sure to grab tickets to their upcoming shows and stay up to date with them through their socials.
The DJ List | Facebook | Twitter | Soundcloud | Instagram