– Purchase Tickets: 2 Day | Saturday Only / Sunday Only  –
Festival Details
Pomona Fairgrounds
1101 W. McKinley Ave.
Pomona, CA, 91768
18 to Dance | 21 to Drink
Music starts at 11 AM Saturday and Sunday, ends at 11PM
---
Back in 2008, a small event called HARD Haunted graced the Shrine Exposition Hall in Los Angeles, and ever since:  the dance music scene in Southern California has never been the same. This year's Day of the Dead marks my 4th Halloween spent with the HARD family – two at HARD Haunted, now my second at Day of the Dead; and it's a holiday that I personally wouldn't have any other way.  Over the last few years, HARD has migrated all across the greater Los Angeles area – from The Shrine to the Hollywood Palladium, Downtown LA's State Historic Park and now in their 7th year, they've landed some mad luck with the new location at the Pomona Fairgrounds.  It'll be my first time there for anything, so I'm excited to for this new journey that we'll all be taking together.  Since we'll be at the Fairgrounds, it's only proper that we act accordingly – and that means Zip-Lining across the festival grounds, an awesome Ferris Wheel dubbed the Century Wheel, and The Typhoon – an awesome looking carnival coaster.  And as always, there will be loads of merch stands and over a dozen different food vendors, ready to cater to every type of dietary need: vegan, vegetarian and carnivore.
Over the last few years, as EDM Festivals have been held under exponential scrutiny – HARD has drawn a line in the sand in a push for more mature dance events; their festivals are an  18+ adventure that frowns on 'Cuddle Puddles', rave lights, pacefiers and face masks.  For some, this might feel slightly disillusioning and a blow to their perceived individuality at said events; but at the end of the day, it's not just about image but safety, for the patrons as well as the festival itself.
Make sure you have your essentials: ID, Credit Card, Cell, Cash, Robot Ears and Good Vibes.
and some The Pomona Fairgrounds are pretty expansive, with two days and 5 stages to visit you'll want to opt for comfortable shoes over fancy footwear.
Layers are your friend: It'll get to almost 80 during the day, but prepare for some blustery wind and nighttime chills.  I mean, Winter is coming.
Regardless of weather, if you're dancing a storm you're gonna sweat – remember Water is your friend; fill up often and make sure everyone in your crew does the same
Earplugs might dull the bass, but when you're older – you'll thank us.
The Buddy System – there's something said for flying solo at a festival, but if you're in a group make sure you have a meeting point and a bestie.
This year, CamelBakcs and GoPro's have the Green Light, but as I was saying earlier – there's a pretty expansive list of Don'ts; besides the very obvious ones (no outside food, no outside alcohol, no ins and outs, no weapons, etc…), here are the highlights for you pretty party people, and then a few from me.
NO Masks
NO Laser Pointers
NO LED Gloves or LED Microlights used for Light Shows
NO Markers, Pens or Spray Paint
NO Large Chains or Spiked Jewelry
NO Balloons, Balls, Inflatable Balls or Frisbees
NO Tents, Large Umbrellas, Chairs or Blankets
NO Stuffed Animals or Dolls (Including Plush Backpacks)
NO Kandi Bracelets or Kandi Necklaces
NO Electronic or Vapor Cigarettes
NO Wubs
NO Totems
NO Bad Attitudes
Mobile App
As a tried and true Techie, I have immense respect for Music Festivals that respect the 21st Century.  HARD DOTD's interactive and immersive mobile app for Android and iPhone is the perfect combination of festival fun and ergonomics, right in the palm of your hand.  On the top, you can see the current temperature at the festival and at the bottom there's a lovely little countdown window, tick-tocking away until the gates open on Saturday morning.  Click through the tabs on the left, and you'll have access to the HARD Mixtapes that have been slowly but surely appearing on Soundcloud, directions to the Pomona Fairgrounds, a site-map and the opportunity to make your own schedule and navigate unexpected time conflicts as you peruse the lineup.  There's assorted details like Set Times, Stage, Artists Details and Socials and last, but certainly not least, you can set a timed reminder so you don't miss your favorite artists; GENIUS.  Between the running tally's of most anticipated sets and most liked artists through the API, if you pop over to the Discover tab you'll see the latest and greatest trends – which directly correlates to the biggest potential crowds.The only thing missing from the Official App is something like FireChat, a mobile texting technology that's proven useful for off the grid events like Burning Man and then gained international notoriety during the recent protest in Hong Kong.  The app creates a network of phones that can still communicate with each other on the festival grounds even if they can't upload their latest Snapchat or Selfie. #Priorities
 Scheduling Conflicts and Highlights
Gaining acclaim under the DJ moniker Destructo, Gary Richards – HARD's proverbial Fairy Godmother – once again outdid himself on the event this year. To curate artists – not just for the event, but for each of the five stages (HARD, HARDER, Pink, Purple and 7UP) for both days, for a specific feel – takes a vision, drive, passion and respect for his peers. That said, if you're a Tech head, you'll probably end spend Saturday at the Pink Stage and Sunday at the Dirty Bird on the Purple Stage.  Want to get your wubs on – just Enter The Void with RL Grime's Pink Stage on Sunday.  Feeling experimental? Dive into Saturday's Purple Stage.
Saturday
On a personal level, there are so many great acts on both days, it's easy to just get lost in the schedule.  I was turned on to acts like Sweater Beats and Shakehips at Do LaB events, so it's awesome seeing them represented here as well.  Sweater Beats has a bunch of new tracks that I've been lusting over lately, so fingers crossed I get to hear 'Dark Matter' live.  I love Seven Lions, so that's a no brainer; between him and Bassnectar, maybe I can even pick up a few hair tips.   ! I've been crossing my fingers for no conflicts and on Saturday there's really only one (well, I guess technically, it's two): Pretty Lights, TEED and ZHU are all overlapping and making my life difficult.  I'll be getting a double dose of PL over New Years Eve for Sea of Dreams, and this is ZHU's North American debut – so I'll probably skip PL – head to TEED then ZHU, but man…that's a tough one; and it's easier said than done. (Have you ever seen Pretty Lights live, I mean, WOW).  To end Saturday night, I'll be getting weird in Mau5ville as Prydz and Deadmau5 head back to back for an epic two hour dance off. I should apologize to Jamie Jones, Knife Party, Araab MUZIK and Odesza now before it's Saturday because I won't be leaving that main stage once those two start going off…
Sweater Beats, 7 Up Stage, 2:05
Seven Lions, HARD Stage 4:30
Snakehips, 7 Up Stage 5:05
AlunaGeorege, 7Up Stage 6:25
Pretty Lights, HARD Stage 6:55 (Alternate)
Tottally Enormous Extinct Dinosaurs, Pink Stage 7pm
ZHU, HARDer Stage, 7:20
Diplo, HARD Stage, 8:15
Deadmau5 vs Prydz, HARDer Stage 8:50
 Sunday
If you're going for only one of the days – I'd pick Sunday. Between the Dirty Bird BBQ on the Purple Stage which promises surprise guests and back to back sets, RL Grime's Enter the Void on the Pink Stage and a closing set from the man, the myth – the epic hair himself, Sir Bassnectar – the only act that compares in any way on Saturday is the epic Mau5 off: Eric Prydz vs DeadMau5.  And that's some real talk. There's actually so much musical win on Sunday that I have a bit of anxiety, three times over.  First, I have to pick between Eats Everything and RL Grime….at the end, Claude vs Bassnectar but the worst is that  Zeds Dead, Cashmere Cat and Booka Shade are on within 10 minutes of each other on the HARDer, Pink and 7Up Stage.  And the cherry on top of the ice cream sundae? I finally get to Trop til I Drop with Thomas Jack – I was so bummed to find out he wouldn't be at Lightning in a Bottle this year (visa issues, I believe) that it's about damn time I get to see him live.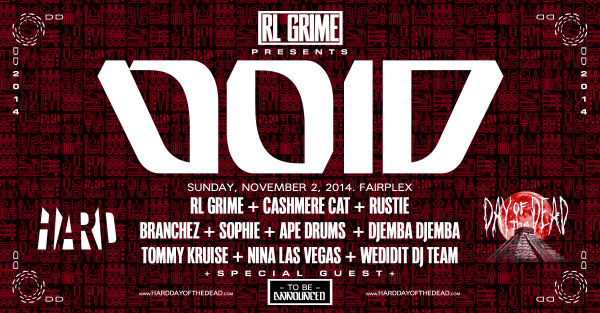 Shiba San, Purple Stage, 3:30
Aeroplane, 7Up Stage, 4:10
Big Gigantic, HARD Stage, 5:00
Thomas Jack, 7Up Stage, 6:00
Eats Everything, Purple Stage, 7:15
RL Grime, HARD Stage, 7:20
Zeds Dead, HARDer Stage, 8:30
Cashmere Cat, Pink Stage, 8:35
Booka Shade, 7Up Stage 8:40
Claude VonStroke, Purple Stage, 9:45
Bassnectar, HARDer Stage, 9:45
For last minute details, interviews and more – keep it locked on The DJ List; for more information about HARD and their upcoming events, try their socials:
HARD DOTD | HARD Website | Facebook | Twitter | Instagram | Soundcloud