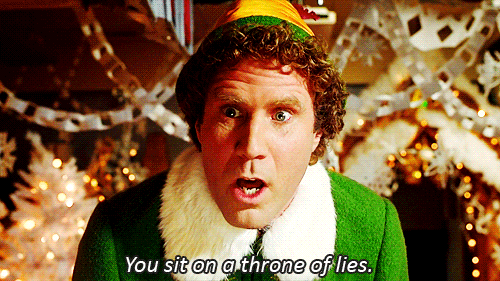 Lies.  Big or small, white or monstrous – we've all told them, and to believe the contrary would be – you guessed it – a lie. According to a recent study, we lie in 25% of our interactions.  Both in action and as concrete ideas, lies can build an unstable foundation in any relationship, familial, romantic, platonic – and even your relationship with yourself. And these untruths aren't confined to our external environment, either; for every falsehood we voice out loud, there are a handful of others that we tell to ourselves. Unfortunately, the lies we tell ourselves pave the way for the way we lie to the world.
In contrast to Mark Twain, who saw them as 'Lies, damn lies and statistics'; I choose to think of them as white lies, grey lies and black lies, all sitting on a sliding scale of deception. Let's do a thought experiment for a second. Quick as a bunny, what's the last lie you told?  Did you tell your boss you needed more time on a project, when you've actually just been procrastinating?  Did you misrepresent yourself in the way you dress, catering to a specific subset of society? Did you tell your squad that you'd meet them for drinks tonight when all you plan on doing is curling up on the couch? Did you tell an artistic friend that you enjoyed their last piece of work when you were anything but interested? Did you tell yourself you didn't want seconds when you're still hungry? From half truths to complete falsehoods, none of them are honest – but, one could argue, they're socially necessary.
From an early age when we couldn't yet grasp the veracity of the truth when contrasted with the stark emptiness of a false promise, or erroneous nature of a flat out lie – we babbled, we balked, then we talked and walked.  We expressed ourselves emotionally, in our own truth, while slowly learning the truths around us.  Leaves don't dance down from trees, they fall with the assistance of gravity; I'd rather believe the former, but the later screams accuracy.  And that's the thing, lies always start small – innocent, lacking any semblance of personal harm or distrust.
White lies are the lies we use on a daily basis to navigate the world.  Telling the cashier that your day is going well even if it's anything but, entertaining a lunchtime meeting with your boss when you just wanted to have your head in a book, compromising on restaurant choice because your friend's appetite is heavily invested and you could give a shit.  Yes, you could be honest in all occasions: My day is actually shit, how long do you have to talk; Sorry, I would rather be alone than talk to you; No, I'm not interesting in eating there.  Yet, you don't – because it's simpler, easier, almost more necessary to give in to the dance of life.  However, each of those scenarios becomes exponentially trickier the more you you've seen the cashier, the longer you've known your boss or just how well you know your friend.
They say that improvisational comedy won't work if you continually say 'No' to scenarios, and life isn't much different. Though white lies are most certainly lies, how awkward or tense would you have made each of those situations for both parties by delving into the veracity of the situation?  In an economic sense, you understand what you're giving and you're complicit in what you're getting. What transforms the white lies into the grey ones, and the damned black dishonesty, are the people you're deceiving and the levels of duplicity you're willing to go through.  The closer you consider the relationship, the more harm dishonesty inflicts. Conversely, the more effort you put into the lie, the more disastrous the backdraft.
Beyond being kinder and flat out honest (things I like), the truth is also easier to remember and never has to be defended – because, simply put, the truth just is. It exists whether or not we want to acknowledge it.  It's like evolution, climate change and science – it's there, and life becomes more valuable when you accept the truth and move forward with it in your pocket.
The economy of friendship is built from the supply and demand backbones of truth. Though we would love to believe that we are infallible and incapable of telling lies, the fact of the matter is we all bend fact to make fable from time to time. Which begs the question not of why do others lie, but why do we lie? Comfort, ease, and emotional protection top the list – the comfort, ease and protection of our own ego.
Sometimes, the truth is boring and as orators and storytellers by nature, we yearn for the truth to be more exciting.  But more often than not, the truth is a a difficult pill to swallow – let alone force feed to another soul; it becomes an alarming reason for pause, a conversation starter, relationship ender, or an anxiety induced call to internal calamity. All the while lies, time and time again, are used to smooth over any future scars before the threat of pain is on the horizon.  The problem is this – lies are akin to using a bandaid to stop a gunshot wound; it might cover the wound and provide a momentary solution, but it's not going to stop the bleeding or the pain.  While, on the other hand, intimate trust is more like a mirror – once it's broken, it can never be put back together quite the same again; and lies have the innate ability to dismantle relationships altogether.  This brings about a new problem – and I'll leave it to Nietzsche to summarize: "I'm not upset that you lied to me, I'm upset that I can never believe you again."
None of us wants to believe the people in their lives to be liars, or dishonest in any way.  Yet knock out one of the mosaics in the stained glass window of your relationship with a lie and you're bound to shine light on an emotional situation.  Knock too many down, and the vibrant image has been replaced with a new vision of clarity.  How many lies does one need to tell to be removed from our inner circle and emotionally placed outside of the intimate confines of our reality?
How many lies do we need to tell ourselves before we realize that we don't have to be what the world wants us to be? We can be unapologetically ourselves, with all of our faults and idiosyncrasies, where our true preferences are wrapped up in the fibers of your ego and expunged through every fiber of your being.  Once you've lived honestly with yourself, there's no going back – being honest with the world you cultivate and curate feels like living with love in every step; once attained, it feels like the only way to live.
No matter the circumstances, next time you're about to fib, falter, misspeak, or flat out lie – wonder what you're lying to yourself about first, and ask yourself why.
"I watched this movie called "Liar Liar" and the message was, *Don't* lie; and that was a smart movie."