In the blink of an eye, it feels like we've all teleported a year ahead; like the universe's proverbial cat sat on the fast forward button of our "cosmic remote". One second, it was February of 2020 and we were all discovering what the hell a novel Coronavirus was and how to navigate a "new normal" around it – and now it's May 2021, and we're one again wrapping our heads around how to re-navigate the world now that the vaccine has been rolling out to a larger proportion of the population. What can and can't we do? How much longer will there be a mask mandate and where do we need to wear a mask still? Lots of questions with varying degrees of answers, depending on the source and what date you ask them! For references made in this post, please be aware I'm referring to what's happening in the United States.
One of the issues that we're dealing with on a global level, is the rollout of a vaccine where humankind is essentially the beta testers. We're lucky in one respect, that the technology used to create our vaccines, whether Pfizer or Moderna, has been around longer than COVID-19 has. For decades, scientists have been intrigued by the advances of mRNA – or for the laymen, 'Messenger RNA'. To wrap our heads around this, let's walk backwards just a bit to understand the biology of our situation.
Our bodies are built on the backbone of DNA – deoxyribonucleic acid. DNA is a double stranded chain of polynucleotides that twist around each other to form a double helix, and hold the entire genetic code for instructions on the development, growth, function and reproduction of both all known organisms – as well as a lot of viruses. DNA is coded together with G, A, T and C coding. Think back to the movie Gattaca about the evolution of the human race when we're not only allowed to, but inspired to, genetically enhance our children. The movie's name is made of the genetic material in DNA (G-A-T-T-A-C-A).
Now, where DNA and RNA are similar, is that they're both types of nucleic acids. Where they differ, is that RNA is a single strand of genetic data with one nucleobase; there are many types of RNA in he body – and mRNA's main gig within the body is to be a messenger – carrying a specific set of instructions to our DNA that dictates the production of proteins, and sometimes even carrying genetic information.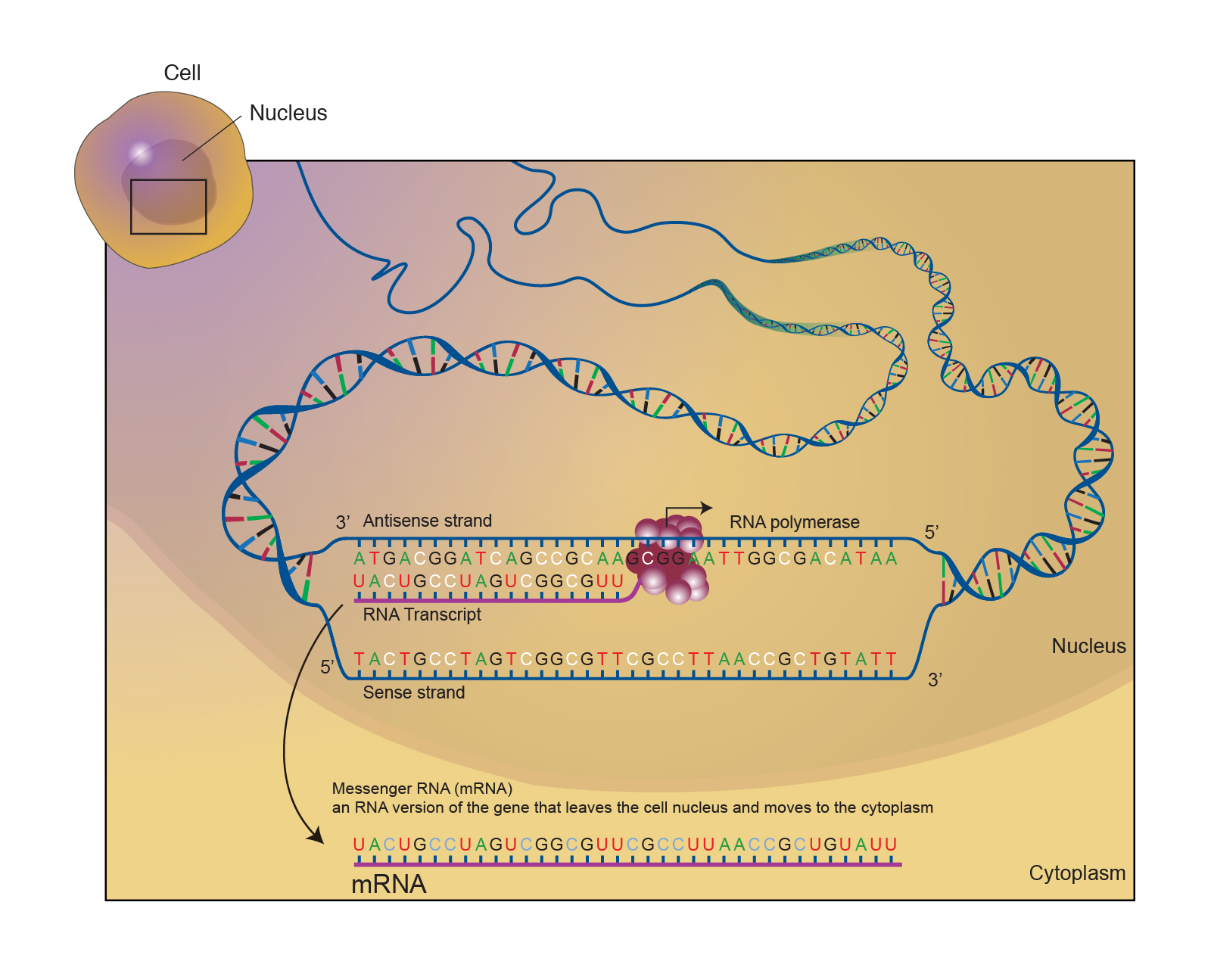 Created in the nucleus of a cell, then moving into the main body of the cell (or, cytoplasm), the protein materials that the body creates actually bind to the mRNA molecule and translates their code to inside of the mRNA. Eventually, it distills down to the ability of the DNA for a single gene to be translated into mRNA, to create a specific protein. Still with me? Good! Slightly confused? Don't even worry about it – well, unless you're a biologist. Now, why does this matter? Because this is how the vaccine for COVID was both created, and distributed.
For decades, scientists have been playing with the idea of using genetic material to attack and dismantle the genetic code of viruses – starting in the 1990's with Katalin Karikó, now a Senior VP and BioNTech who is part of their mRNA program. Much of her research was shelved, she was even demoted during the time of her research. The scientific controversy that surrounded mRNA vaccines? The cells used for the mRNA research were fraught with ethical questions because they were from discarded embryos. It wasn't until almost two decades later in 2007 when Derrick Rossi built on the findings during his time at Harvard Medical School. Why is Derrick Rossi important? He's one of the original founders of Moderna. .
And now, we're a bit full circle – Moderna, BioNTech – and Pfizer, who are working with BioNTech, all are using mRNA based vaccines to combat COVID with genetic information that targets the virus specifically, Ah, yes – it seems like to combat a new virus, we're having to use new methods of genetic self defense; and synthetic mRNA is the key to it.
---
There are a lot of people who want to get into discussions of "keep the government out of my body", or "it isn't safe" – and they would probably be riddled with anxiety if they actually took their own words to heart. There are many things that our 2021 selves habitually engage in that they don't care about the effects of: refined sugars in foods, caffeine, nicotine, heavy drinking, social media – or simply just media – addition, etc. I would love to hear their opinions on those after reading some reports, so for now, we're just going to ignore that part of the conversation.
I did get vaccinated – I'm now three weeks out of my second dose of the Pfizer vaccine. I didn't have any side effects, except being exceptionally happy to finally get it. So, for those like me, or others in the process of being fully vaccinated: now what?
Firstly, make sure you keep your vaccine records in a safe location – chances are high that you'll need to display them in the future. Secondly, I know it's really fucking exciting to get your shots – but try your best and don't share personal information on social media.
Whether its for travel abroad or domestic, college education or a Summer concert series, vaccine passports will most likely be coming to the United States whether we're ready or not. The EU has just announced vaccinated Americans may visit by the beginning of the Summer; meanwhile Universities like Duke and Oregon State are all requiring returning students to be vaccinated when campus re-opens for in person instruction this fall. Two moves that I am perfectly happy with. When I went to UCSB in 2003, we were required to prove we had several vaccinations before living in incredibly close quarters with others – it's a smart, health conscious decision. If you want a digital way to display them, you can keep track of your vaccine with V Safe – you can also track your weekly health after your vaccination.
As for your masks? You're going to want to keep that around – and most likely, somehow, around your neck. The mask rule has been updated recently, and yes…it's often hard to keep track of when you'll need a mask; so I just err on the idea that at some point I could need it and would rather be safe than sorry.
If you're vaccinated – you can still be an asymptomatic carrier, without presenting with any sort sickness; the benefit of the vaccination! So to minimize the risk of you (a non sick, fully vaccinated) person giving it to an unvaccinated person – you'll only need it when you're inside, it's crowded and can't stay six feet away. You're at a full go to get back to the "new normal" we're trying to navigate.
Conversely, if you're unvaccinated or only have one Moderna or Pfizer shot – the only way you get to be maskless is if you're with members of your household or if you're with fully vaccinated people. Whenever you have a chance of being around anyone unvaccinated, indoors or out, you will want to wear it.
---
As of the morning of May 4th, it was estimated that roughly one third of the country has been vaccinated – which is a good push, but not enough for the United States to be anywhere near levels necessary for herd immunity. I am thrilled that people are getting vaccinated, and at the same time equally nervous about the implications if we don't vaccinate enough of the global population.
For the last year, my family unit has done their due diligence to keep ourselves and others safe; we've limited visiting with others, reduced our local footprint, always had a mask and disinfectant on us and drastically adjusted how much we were spending time in social settings. I'd be remiss to think it didn't take a psychological toll on me, or anyone else – regardless of how restricted your universe became or not. A year later and two vaccines in, I do feel more confident being outside and around strangers since the second vaccine shot. Admittedly, I still get a bit claustrophobic in large crowds and agoraphobic to be outside at times when I'm anticipating a crowd; but, from the sound of it, these aren't uncommon feelings . The more I interact and engage within the new normal, the more my anxieties have fallen by the wayside.
How are you and yours How are you handling things re-opening where you are? Are you vaccinated – or do you intend to be? Let me know in the comments below – I'm interested to hear where everyone stands.
Stay safe, and stay sane, my friends!
---