Just the other morning, my best friend from childhood tagged me in a brand new Facebook Challenge; in the back of my head, all I could pray was that it had nothing to do with Ice, Buckets or viral infamy – instead, I was urged to impart some wisdom in the form of books.  Finally – a challenge I can get behind! Eagerly, I did an about face to my towering library of literature and smiled to myself; I wasn't sure what the true challenge would be, finding a group of friends that shared my bibliophile-esque ways – or narrowing my whimsical reading list down to only ten books. Regardless, I finally finagled my way to a list of ten (well, eleven – if you count my second Daniel Goleman rec), but all in all – these are the authors that have spoken to my soul over the past few decades.  Even if you don't pick a book from this list, I highly urge you to find an author, subject, time period or style that you enjoy and dive into it head first, heart second.
Reading is my favorite form of escapism, because you can keep one foot grounded in reality while your imagination takes off like a wild wind. Whether they're tense tales of mystery, bold epiphanies dressed as mental manifest destiny, revolutionary scientific discoveries and deep rooted philosophical questions – I absolutely love it.  I devour words for breakfast and snack on syntax for dessert, have an affinity for alliteration and an unrequited love of symbolism, analogy and metaphor.  And my brain – it acts like a sponge; every new piece I read, whether novel, poem or song lyric has pushed me to evolve my style of writing.  Each and every one of these books, and authors, has touched my life for the better and I've seen the world with new eyes time and time again because of the wonder and beauty they've inspired in the world around me, as well as this weird little world inside my head.  Without further ado, these are the ten non-fiction books that have influenced my life, in no particular order other than my memory.
A wonderful expose into the nature, and importance, of emotional intelligence.  I was first recommended this read by my Counselor in High School – though I didn't read it until my early twenties, this has been one of my favorite Non Fiction reads.  I highly suggest 'Social Intelligence' as a follow-up if this piques your fancy.
In college, I waited until essentially the last second to complete my English requirement – the last quarter of my Senior Year, if you want to get specific.  But, the course – Comparative African Literature – was well worth the wait and the Professors and TAs were some of my favorite of my entire collegiate career.  At the end of the quarter, we got to pick our own essay topics – I was just descending into Nietzsche's writings and ended up comparing Neo-Colonialism in Africa to the deep rooted Judaeo-Christian ideals of morality and ethics. Needless to say, both proved to be interesting reads.
With literary prowess and an incredible knack for storytelling, Robert Jourdain weaves one of my favorite stories – your brain on music.  I live, eat, sleep, breathe music – I wake up with songs in my head, and immediately head to my laptop to turn off the silence of the world.  Tunes, melodies, lyrics – they circle around me and I love how they can bring me to both tears and the height of ecstasy.  In this book, Jourdain takes a scientific approach to music – conveying how tone, melody, melody and composition all play into each other, and just why each and every one of us is so enthralled by it.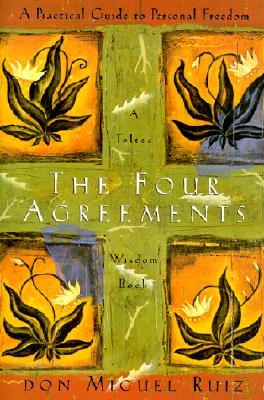 Like most of the authors on this list, to only put one Ruiz book on this list is potential blasphemy – every last piece he's written I've eagerly gobbled up with my eyes and have felt better for it.  But, for anyone that hasn't had experience with his books – The Four Agreements is an excellent place to start.  The simple premise, is that everyone should live by four essential agreements – Be Impeccable With Your Word, Don't Take Anything Personally, Don't Make Assumptions, Always Do Your Best.  With mantras like that, how could you possibly go wrong?
Mmm, Huxley. Where do I even begin – this was recommended by a few friends when I mentioned I was looking for an adventure, and a mental adventure is what I got.  Huxley circumnavigates the brain and delves into unmapped areas of human consciousness.  It's an incredible read; take the journey.
If Huxley is your cup of tea, Daniel Pinchbeck is your tall tumblr of Whisky; taking a page from Huxley's mental explorations, Pinchbeck ventures into contemporary Shamanism with the assistance of modern psychedelics.
I found this book on my bookshelf a few years ago, I think my step-mother handed it down (she always gives me great reads) and it stayed there for years – but I was going through some difficult times and needed a mental adjustment.  'It's Easier Than You Think' provided just that. Through personal anecdote and tiny stories, humor and introspection, Sylvia Boorstein slowly but surely helped change my mindset towards a more positive way of life in the way of the Buddha.  
Time for a little thought experiment: the dinosaurs were wiped out long before us, and there's a chance humanity won't last either – what happens to the world if the human race becomes extinct?  It's not the most pleasant question to ask yourself, but in the realm of possibilities – why not indulge your brain – Alan Weisman sure did, and the results are astounding. There's so much manmade infrastructure, like subway systems and dams, that will simply lay waste and become overrun by the original ecological state of the region.  Parts of the world would almost become unrecognizable within centuries.  It's a wonderful read, and definitely made me think of the effect of global industrialization
A book….about Numbers? Yep – you're damn right it is.  Math is the Yin to the Written Yang – words can be flowery, beautiful, whimsical and shift in meaning – but numbers are static, stoic, firm and steady; they're an exact science, and they're one of the greatest discoveries of all time.  Tobias Dantzig provides an excellent account of the history of the numbers themselves; though not everyone likes reading about mathematics – if you happen to be a fan of the subject, you won't be able to put this book down.
This is the year of now – instant food, instant drinks, instant payments, insta-grams and a gogogo lifestyle are all indicative of a grandiose shift in global consciousness from stopping to smell the flowers, to filtering them in LoFi and throwing hashtags on them. Now, I love how tech-savvy the world has become – but I have a big fear that a lot of people are forgetting that it's okay to walk instead of drive, call instead of text, send mail instead of email, cook a homemade dinner as opposed to popping something in the microwave.  Through example after example, Carl Honere exemplifies his issue with the 'Cult of Speed' and has converted me into a Slow-Life believer.
I literally grew up on a basketball court. Go back – farther back than High School, farther than Middle and even Elementary School…I can remember being 3 years old and my dad lifting me up to "shoot" my first shots on a big hoop, I remember watching, awe inspired, as players gracefully glided like gazelles up and down the court.  When I was at my most competitive, playing for a club team, my middle school team and being scouted for High School – my parents passed this book on to me and I eagerly lapped it up.  Phil Jackson is an idol in so many ways, and his words – and stories – truly spoke to me.  Whether you were a player, a coach or simply just love the game – this is an excellent read and I promise you won't be putting it down anytime soon.