Dance Music evolves at a lightning fast pace, and as we rush into the next moment, next song, next event and next festival at an exponential speed it somehow feels easier to forget the humble beginnings of the scene.  Now in 2016, EDM has bulldozed its way into the mainstream while the population has evolved into all inclusive hodgepodge of every type of soul the world has created.  But, a decade ago – two decades ago?
Dance Music was for the freaks and the weirdos, minorities and queers, artists and poets, lovers and friends, people questioning their social identity, people questioning their gender identity and people questioning life.
The dancefloors are full of personalities that felt they couldn't fit in anywhere else, so instead of retreating into our loneliness, we used that feeling to bring us together, curating a safe space for us to coexist; it just so happened that we coexisted in the modern trenches, in warehouses, in pseudoaffordable units that more resembled a bohemian commune of like-minded individuals rather than the imposed housing infrastructure of common society. Because let's face it, most forms of societal infrastructure seem null and void to many of us.  For a group of individuals that have stopped finding value in the monetization of life, the community gave something of actual value to us.
Our community was born in the dark recesses of abandoned spaces, decorating them with their technicolor energy and otherworldly grooves.    And the more underground the event? The better the crowd, and the beautiful ethos the events created felt palpable – like a silent passion by which each of us lived.  It's easy to forget where you ended and the rest of the dancefloor began, as hot, sweaty bodies boldly paraded every which way around the dance floor as we slowly became one breathing, loving, living, dancing, conscious organism.
On Friday, December 2nd – the Dance Community was shaken by tragic news out of Oakland. An artistic collective known to some as Ghost Ship, others as Satya Yuga, caught on fire around 11:30 with dozens of people inside, with stairwells made of pallets, wooden decoration haphazardly strewn throughout the venue and exposed electrical cords.
 Image From Ghost Ship's Website
From New York City to Los Angeles, Oakland, San Francisco and more high-density metropolitan areas – the popularity of Warehouse Parties has never dwindled, and the power of the internet has propelled their popularity while keeping some of their elusive secrets. Like many of my friends, when I first caught the news out of the Bay Area, my first thought was it that could have been any of us.  I was at a warehouse party just two weeks ago, I'm going to another on Saturday, and I'll probably go to a handful every year, for the next decade. If you don't go to warehouse parties, chances are you have a friend that goes, or will go – a best friend that delights on the dance floor, a lover that lives for the nightlife, a brother, a sister, maybe even a parent – because that's the thing, unlike the way the real world feels every now and again, these events actually are all inclusive, they let you breathe, they let you be free and live precisely within the moment.  They're a wonderful, whimsical ride – and to think that lives were taken away in the middle of one of those moments is enough to bring a grown person to tears.
The fire also highlights something that artists have felt in large urban areas forever – the financial pinch for housing.  Prices are astronomical and starving artists who live, breathe and eat their work will do anything, live anywhere, to fuel their creative fire.  Live with 10 strangers in a makeshift home? Sure.  Build a personal space in a loft with a dozen other creatives? Of course! Because artist housing isn't afforable.
The unfortunate circumstances of the fire evoke a menagerie of feelings, from sorrow for my Bay Area dance community, to the empathic horror of the victims and victims families, to understanding the true nature of both the events we go to and the community we choose to thrive in.  From all accounts, Ghost Ship was as beautiful as it was a safety hazard – with exits boarded up, flammable decorations and a staircase made of pallets.  Things that from now on it's up to the rest of us to call out, because again – from all accounts – this could have also been avoided if we chose to truly hold each other accountable.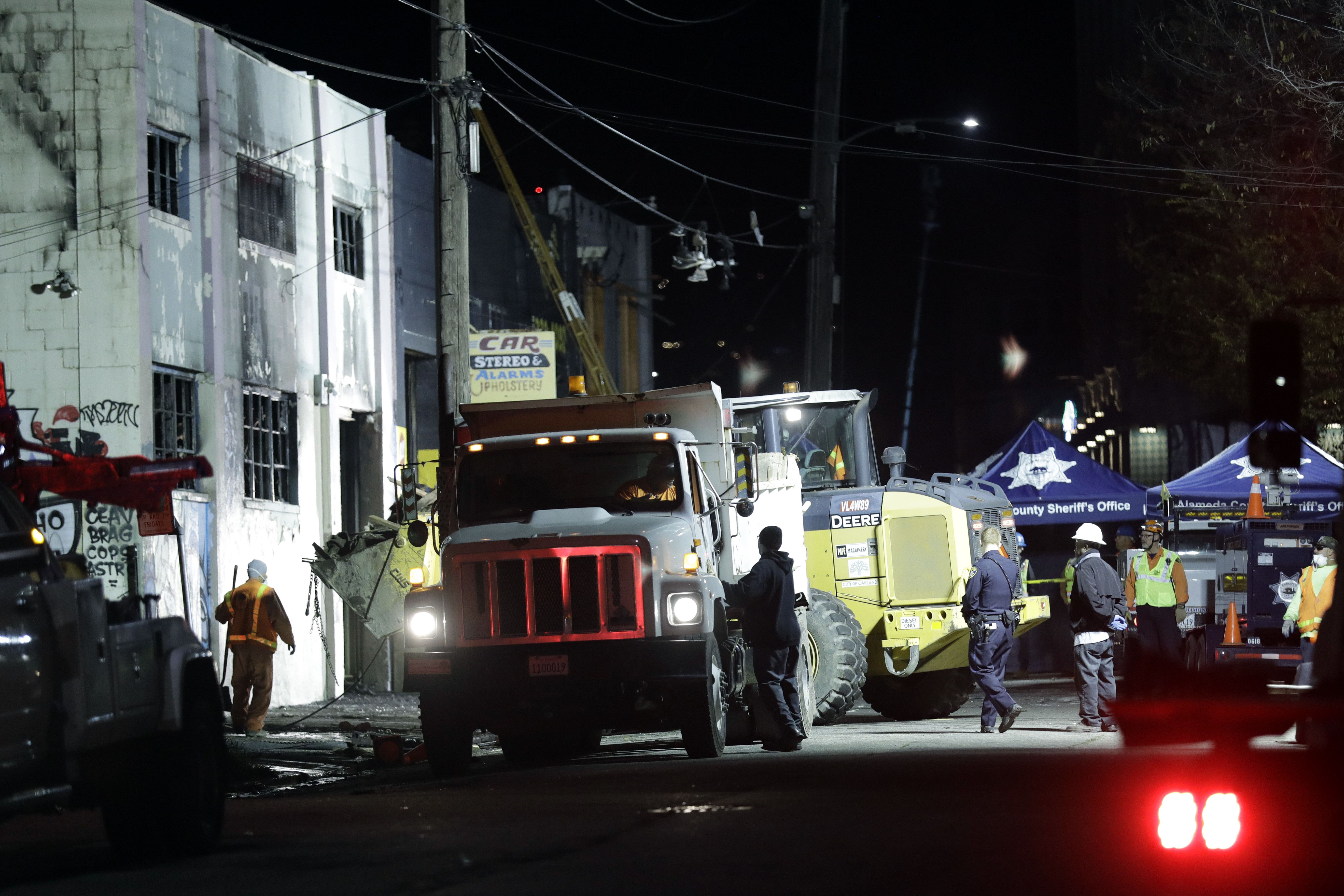 As it stands, this is one of the deadliest structure fires in recent United States history. To assist victims of the Oakland Warehouse Fire, San Francisco's Grey Area Art + Technology Group have put together a Donation Page while Professional Sports teams from the Oakland Warriors, who play at Oracle just a few miles from the venue, as well as the Oakland A's and Raiders have a donation page as well. As of today, they have combined to raise over 600,000 for victims and victims families.
The nature of the fire has pushed Dance Music and Warehouse culture into the mainstream, and in an unfortunately negative light.  Event production companies will have to think twice, maybe even three times about the safety of their patrons and the venue, and the crackdown on both the artist collective lifestyle and warehouse parties themselves is almost inevitable… but please – don't stop dancing.
For your own copy of the Oakland print, please head to our talented DJ List photographer Elizabeth Reyes' ETSY. – all proceeds go towards the relief fund for the victims of the Ghost Ship fire